Set of Currency Coins, Ancient Information Age, A Certificate of Authenticity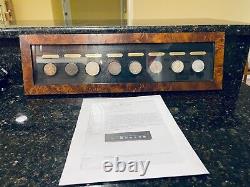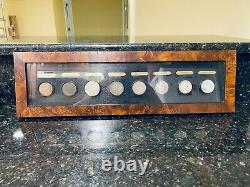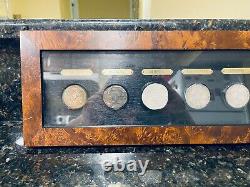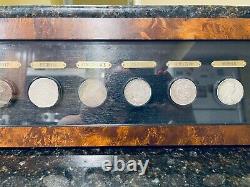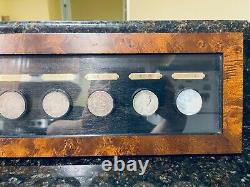 Set of Currency Coins, Ancient - Information Age, comes with a LOA. 221 to 205 BCE; Near East, Byzantine Empire, ca. 527 to 565 CE; Western Europe, Medieval period, ca.
10th to 13th century CE; Western Europe, Germany, ca. 1581 CE; Latin America, Mexico, ca. 1762 CE; East Asia, Japan, Meiji period, ca. Late 19th century CE; North America, United States, ca. 1922 CE; North America, Saint Thomas, ca. This collection is an interesting display of how coins have changed throughout the ages, and yet across cultures and time, they still retain recognizable elements that are still used in today's currency.
Despite our modern digital wallets and cards, there is something very satisfying about real, tangible currency. For a description of each coin, please see below. These coins are professionally mounted in a wood and glass frame with engraved brass plaques with the time period, and a metal bracket on the back, and are ready to be displayed. Size of each approximately: 1.5" Diameter (3.8 cm); frame: 24" L x 7 W (61 cm x 17.8 cm). In order of time periods on plaques, left to right: Ancient: A Ptolemaic kingdom, Ptolemy IV AE 40 bronze drachm coin with the obverse side displaying Head of Zeus Ammon facing right.
Byzantine: A silver Byzantine Empire AE Follis Justinian Cyzicus with the obverse of helmeted & facing cuirassed bust of Justinian, holding a globus cruciger and shield, cross in right field. Medieval: A large silver coin the reverse face of a cross within concentric circles. Renaissance: German Electorate of Saxony Albertine Line Augustus silver thaler, 1581 Leipzig, with the obverse of armored portrait to the right with sword and lettering: AVGVSTVSD.
" Colonial: A silver Mexican 8 Reales Carlos III with the reverse of crowned hemispheres flanked by crowned pillars and lettering: "VTRAQUE VNUM PLUS VLTR Mo 1762 Mo. Industrial: Japan, 1 Yen, Meiji period with obverse of dragon within beaded circle, legends above, written value below and lettering: (Japanese characters) 416 ONE YEN 900.
Modern: A United States of America 1922 silver Peace Dollar with the reverse of an eagle with lettering: UNITED STATES OF AMERICA; E PLURIBUS UNUM ONE DOLLAR PEACE. Information Age: Saint Thomas 1998 Commemorative 1000 dobras with the reverse of holographic fish and coral. This piece has been searched against the Art Loss Register database and has been cleared. The Art Loss Register maintains the world's largest database of stolen art, collectibles, and antiques. This item is in the category "Coins & Paper Money\Coins: World\Collections, Lots".
The seller is "jamewebe-60" and is located in this country: US. This item can be shipped to United States.
Composition: Silver
Certification: ARTEMIS GALLERY