Rare Gold Coins, Silver, US and World Currency Lot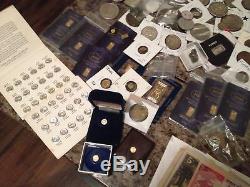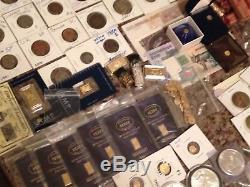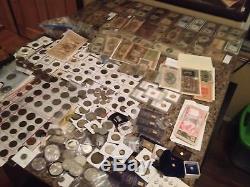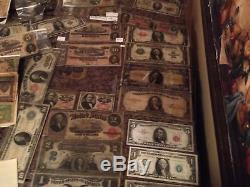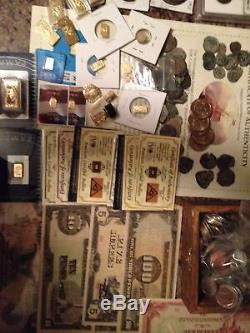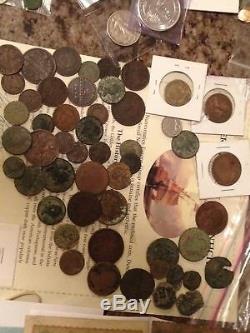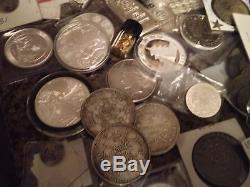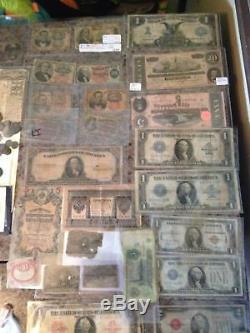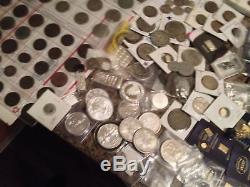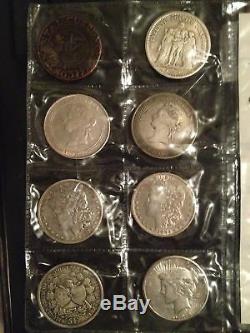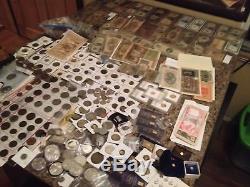 13 piece lot - Gold, Silver, Rare Coin and Currency Lot. 1 Gold Items- Gold Items will be Chosen from Australia, Alaskan Gold Nuggets 8-20 Mesh. 5 g to 5 grams. Famous One Gram Lady Fortuna Gold Bullion. 1850's California Gold Tokens. I have ten 1850's United States Gold Coins to choose from as well. These alone go for 50-300.00 US a piece. 1 Silver Item- Silver Item will be chosen from Silver Coins US AND WORLD COINS. Coins Vary in Weight US Coin Chosen From Morgan Peace Dollar, Standing Liberty, Silver Half Dollars, Half Dimes, Silver Nickle (3 Cent Pieces 1800's), Silver Dimes. Silver Bars Ranging from 1 gram to 1 oz.
1 Spanish Cob/ Colonial era Coin- Thats right 1 coin from the early 1600's to late 1700's. This coins were struck during the time of the Infamous Pirate Black Beard and Columbus.
Great Pieces, in great shape. 1 Currency Note- notes will be chosen from 1960's Russian Cold War Note or WW 2 German Mark. Both are rare and not in many peoples collection!! Or Silver Certificates or Late 1800's Silver Certificates 1899 US Black Eagle Certificate. Also I have 1928 Red Seal Notes and Small Confederate Notes.
1 Gold Certificate or Silver Certificate Or Fractional Currency or Confederate Note- I have both Large and Small Bills. Denomination of the bill Varies as well. I have Star Notes, 10 and 20.00 Large Gold Certificates to choose from as well as small. I have many Large 1923 Large US One Dollar Silver Certificates to Choose from as well as 1 to 5.00 Silver Certificates Normal Size. Fractional Currency are very Small Bills from Civil War Era, I also have Confederate Notes.
These bills alone that you may receive are worth almost half or more of the asking price of this lot. One Red Seal note, Or Civil War Era Note or STAR SILVER Certificate Note, dates vary. I have both Large and Small sized notes. 3 World Coins- Dates and Composition Vary- I have a lot of Silver Coins still up for grabs. THE SILVER COINS and Normal Composition Coins ARE worth more than face Value as Most are from Late 1800's to Mid 1900's.
One Full set of Either Cold War Russian Notes or A WW 1 or A WW 2 German Marks- Denominations ranging from 1,3,5,10,20 Bills. These are great pieces of history and aren't in many peoples collection. THE GERMAN MARK YOU MAY RECEIVE IN THIS LOT IS FROM THE EARLY 1900'S.
THESE HAVE AMAZING FEATURES AND ARE GREAT PIECES OF HISTORY AND ART. 1 Coin OR CURRENCY CHOSEN From One War THE US FOUGHT in. You Will Receive One Coin that was struck or made during one of our Wars.
Revolutionary War, French Indian War, CIVIL War, WW1 , WW 2 just to name a few wars. THESE ARE VERY RARE AND VERY UNIQUE. I Will Choose One Coin or Currency from any of the wars listed above.
Your Coin or Currency may include but it not limited too Continental Currency or Coins, Silver Certificates, Civil War Currency or Coins, Large Variety of Bills or Coins. Most Coins Made of Silver. I also have Russian Cold War Notes, German Marks from WW 1 and WW 2 you could receive as the war time currency. Also you May Receive 1943 or 1944 Steel Wheat Penny.
1944 is considered one of the rarest coins in US History and is worth BIG BIG BUCKS. You may Receive that in the grab bag of coins Again All is Chosen At Random. I like the idea that when my son learns about history i have coinage ranging from Alexander the Great, Ancient Rome to every important part of our history. I can share that with him and his class when he learns about it.
One Grab Bag of Wheat Pennies- I have had some people find some Key Dates in the wheat pennies they have received. Bonus- one silver item- silver items chosen from silver coins, silver bars or silver medieval or silver viking coin. From time of Ivan the Terrible.
I strive for 100% satisfaction. I have multiple lots for sale. The Higher priced lots the rarer the items.
Ie Better Chance of US GOLD COINS, RARE SILVER COINS, BETTER QUALITY NOTES. EACH LOT NO MATTER THE PRICE WILL INCLUDE RARE ITEMs, that not many others offer on here in their lots. The item "Rare Gold Coins, Silver, US and World Currency Lot" is in sale since Monday, April 15, 2019. This item is in the category "Collectibles\Wholesale Lots\Other Collectible Lots".
The seller is "jonesmessina27" and is located in Little Falls, New York. This item can be shipped worldwide.
Country/Region of Manufacture: United States