Niue 2022 YEAR TIGER $10 5 Oz Gilt Pure Silver Gilded BLACK PROOFMINTAGE 888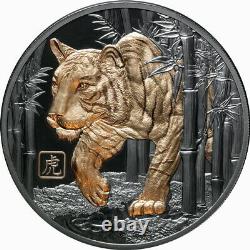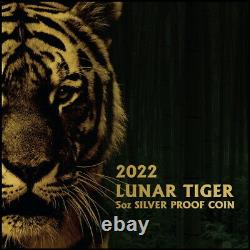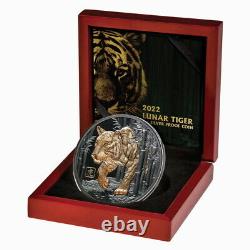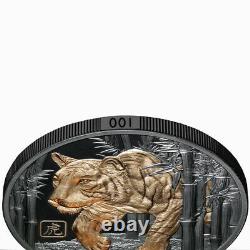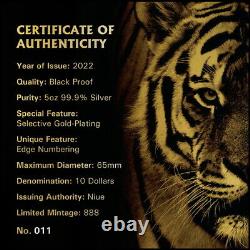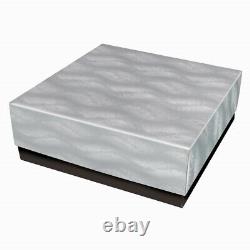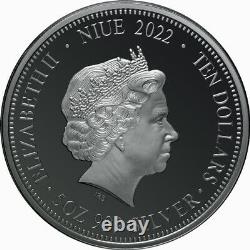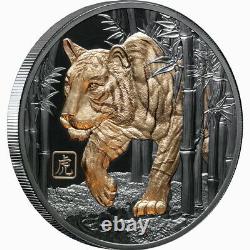 Celebrate 2022, the Year of the Tiger, with this unique numismatic tribute. This huge, very low mintage (only 888), 5 ounce pure silver BLACK PROOF is gilded with 24-karat gold plating and numbered on the edge with its unique serial number! The Year of the Tiger 5 Oz Silver Gilded Black Proof is the ninth annual release in this most sought after series. Don't miss out, get yours now!
We don't merely like this coin. Stunningly engraved design depicts an adult tiger stalking its prey in a bamboo forest!
HUGE sizefive troy ounces pure silver, 65 mm in diameter! A black proof finish, highlighted with 24-karat pure gold gilding! Each coin is individually numbered on the edge (matches certificate number), making each coin truly unique!
Each coin is displayed in a handsome, luxurious, highly polished solid wood presentation case! What a tremendous work of numismatic arta large, adult tiger silently stalks its prey in the midst of a bamboo forest.
The engraving is so fine, the detailing so intricate, and the designs so delicate that individual whiskers and hairs of the tiger's coat can be discerned! Struck from a HUGE five troy ounces of.
999 pure silver, and spanning a massive 65 mm in diameter nearly 3 inches! , this imposing coin represents an appropriate and commanding tribute on the Year of the Tiger! This dynamically rendered wonder couldn't be more realistic! The Chinese character for "Tiger" is indicated inside a cartouche and, like the tiger itself, is highlighted in pure gold plating.
There are no legends on this side to detract from the drama of the vignette. Each coin is encapsulated and displayed in a highly polished, solid wood presentation case, accompanied by a numbered certificate. Each coin is also individually numbered on the edge, making each truly unique! With a ridiculously low mintage of just 888, these impressive beauties are sure to sell quickly! Observing the fearsome carnivore that is the tiger, whether in nature or in a zoological park, we mere humans can't help but be awestruck by the size, strength, and elegance of this majestic creature.
An ancient Chinese proverb states, He who rides the tiger will never get off! At once noble and fierce, truly nothing compares to the thrill of stalking through the jungle or forest in search of a wild tigerall the while sensing that a tiger may also be stalking you! Is easily one of the most intriguing, most beautiful, and, unfortunately, one of the most endangered great animals in the world. Big cat experts believe that fewer than 4,000 tigers remain in the wild, with far too many being lost to poachers each year.
The tiger is also one of the two most auspicious animals on the Chinese lunar calendar (the other being the dragon), a feline made all the more desirable by the the superb execution of this magnificent portrait on a precious metal, frosted cameo finish black proof with gilding. Even better is the tiny mintage, just 888, a minuscule number for such an affordable, five troy ounce pure silver coin. There are no legends on the obverse, to further enhance the beauty of this dramatic vignette of a tiger stalking through a bamboo forest!
The Year of the Tiger. Centuries ago, the Chinese invented a calendar based on the lunar (rather than the solar) cycle. There are twelve animals in the Chinese lunar zodiac, each corresponding in sequence to a year rather than a month. In 2022 we celebrate the Year of the Tiger.
According to tradition, people born during a Year of the Tiger (1914, 1926, 1938, 1950, 1962, 1974, 1986, 1998, 2010 and 2022) are said to exhibit that animals attributes. They are charismatic and fearsome, generous but unpredictable. They are often noted for their enthusiasm in life, and are unafraid of exploring new territory. They can also be aggressive, especially when they perceive a threat or are cornered.
An adult tiger stalks its prey in the midst of a bamboo forest. Her Majesty, Queen Elizabeth II, in crowned profile facing right. This portrait, featuring Her Majesty wearing a tiara and pearl earrings, was executed by the sculptor Ian Rank Broadley. The legend ELIZABETH II, the date of issue and denomination also appear, while the legend 5 OZ 999 SILVER guarantees the weight and purity.
The coin is encapsulated inside a highly polished, solid wood, clamshell-style presentation case, lined with black velvet and protected by a stylish outer box. An individually-numbered certificate of authenticity is included. Images featuring the edge and certificate numbers are mint-supplied images intended for general reference only.
Serial numbers on images are NOT indicative of the serial number you will receive! Black Proof with Selective 24-Karat Gold Plating (Gilding).
Serrated (milled, reeded) with Serial Number Edge Lettering. Niue is a small island nation in the South Pacific.
Although it is completely self-governing and independent, it remains in free association with New Zealand, a member of the British Commonwealth of Nations, hence the portrait of Her Majesty Queen Elizabeth II on its coinage. The country is located about 1,450 miles northeast of New Zealand. It is closest to Samoa, Tonga, and the Cook Islands.
It is one of the largest coral islands in the world, with a total area of 260 square kilometers. Niueans are predominantly Polynesian; most are bilingual, speaking both Niuean and English. The item "Niue 2022 YEAR TIGER $10 5 Oz Gilt Pure Silver Gilded BLACK PROOFMINTAGE 888" is in sale since Sunday, November 28, 2021. This item is in the category "Coins & Paper Money\Coins\ World\Australia & Oceania\South Pacific". The seller is "talismancoins" and is located in Saint Louis, Missouri.
This item can be shipped worldwide.
Country/Region of Manufacture: Australia
Certification: New in original mint packaging as issued
Precious Metal Content: 5 Troy Oz Ounce Pure Silver
Grade: Proof Uncirculated
Year: 2022
Circulated/Uncirculated: Uncirculated Black Proof
Composition: Pure Silver
Denomination: $10 Ten Dollars