GERMANIA 2020 5 MARK 1 OZ PURE SILVER Round NGC EARLY RELEASES ER MS70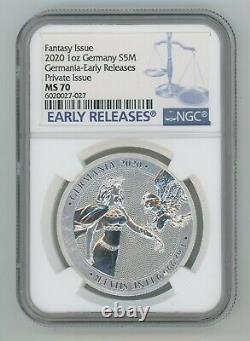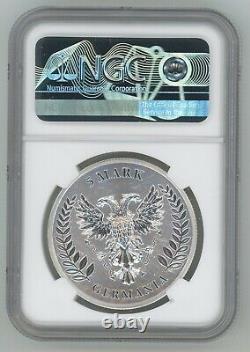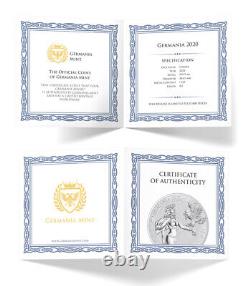 GERMANIA 2020 - 5 MARK 1 OZ PURE SILVER BRILLIANT UNCIRCULATED ROUND. NGC GRADED - EARLY RELEASES. GERMANIA 2020 - - NGC EARLY RELEASES MS70 - 5 Mark 1 oz Pure Silver Brilliant Uncirculated Round. GRADED PERFECT MS70 WITH DESIGNATED EARLY RELEASES LABEL! Germania 2020 BU Limited mintage worldwide of 25 000 coins Contains 1 oz of 999.9 fine silver Obverse: Features a personification of Germania Reverse: Displays the effigy of Germania Mint.
We are proud to present the 2020 Germania coin. This year's design was chosen by the Collectors in an online voting. The obverse The silhouette of the feminine personification of Germania on the 2020 coin is depicted in a dignified pose with a windblown cape. Lady Germania is accompanied by the two-headed eagle - a symbol from Germanic mythology, associated with Janus, the god of all origins, guardian of doors, gates, passages and bridges, the patron of contracts and alliances. The eagle's heads facing the opposite symbolize the past and the future. The reverse The reverse of the 2020 coin was refreshed, while the largest changes in enrichment of details concern the eagle. The precision of the workmanship highlights the uniqueness of this coin. Material: Pure Silver (99.99%) Finish: BU Weight: 1 oz Diameter: 38.64mm Mintage: 25000. Each additional item from this listing is only 0.50 cents. (WITH THE EXCEPTION OF GOLD COINS). ONCE YOUR DONE SHOPPING, PLEASE MESSAGE ME AND I WILL SEND YOU A COMBINED INVOICE.