2020 Voyager Golden Record The Sounds of Earth 1/2 oz Fine Silver Coin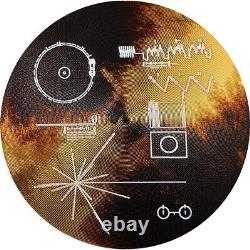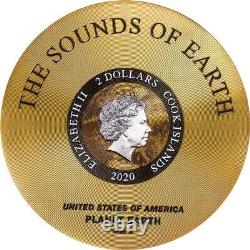 VOYAGER GOLDEN RECORD - THE SOUNDS OF EARTH - 2020 1/2 OZ DINE SILVER COIN. The Voyager Golden Record are records that contain sounds and images chosen to show the life and culture on Earth. These records which were sent in the Voyager spacecraft in 1977, are for alien life forms to see.
The Voyager Golden Records are two phonograph records that were included aboard both Voyager spacecraft launched in 1977. The records contain sounds and images selected to portray the diversity of life and culture on Earth for extra terrestrials in a sort of time capsule intended to communicate to extra terrestrials a story of Our World. It's like a present from a small, distant world, a token of earth sounds, science, images, music, thoughts and feelings. Humans are attempting to survive time so they may live forever. Perfect gift for space enthusiasts.
Rimless silver coin fully gilded. Grooves on record in light relief. Mintage: 500 Material: 99.99% fine silver Finish: Proof Weight: 1/2 oz Diameter: 50 mm.