2020 Uranus Planets and Gods 3 oz Pure Silver Coin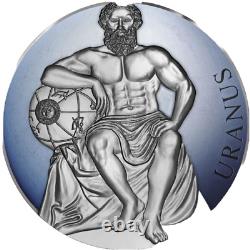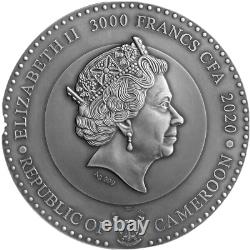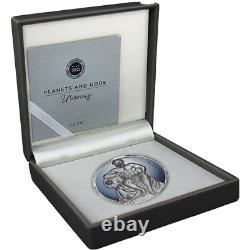 URANUS - PLANETS AND GODS - 2020. This amazing coin is the third release of the "Planets and Gods" series, which comes after the Mars coin. The coin is dedicated to the seventh planet from the Sun - Uranus. It is the planet whose name is derived directly from a figure of Greek mythology. Uranus was the ancient Greek deity of the Heavens andthe earliest supreme god.
On the coin, he is depicted as a gigantic man with long muscular arms and legs, holding the zodiac-wheel. The coin's background is tinted in blue-green color in order to match the planet's color. Uranus comes from its atmosphere.
This planet is composed mostly of hydrogen, helium, and methane. One more great coin from the "Planets and Gods" series featuring antique finish and digital printing! Features: High Relief, digital printing Mintage: Up to 500 pcs Material: Silver.
999 Finish: Antique Issuer: Republic of Cameroon Weight: 3 oz Diameter: 55 mm Face Value: 3000 francs CFA.