2016 Disney Rapunzel 1 oz silver coin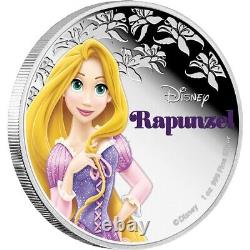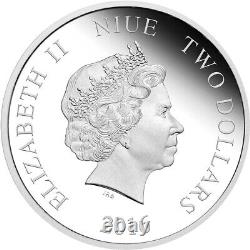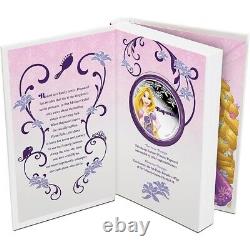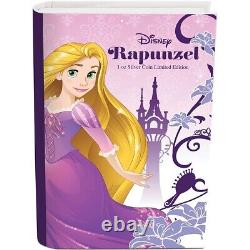 2016 Disney Rapunzel 1 oz silver coin. RAPUNZEL - Disney Princess Series - 2016 1 oz Silver Coin. Officially licensed by Disney Consumer Products with a limited mintage of 10,000 coins. Check out the other coin in the Disney Princess Series. 2nd Coin Release: Sleeping Beauty - Aurora. 3rd Coin Release: The Little Mermaid - Ariel. 4th Coin Release: Beauty and the Beast - Belle. 5th Coin Release: Aladdin - Jasmine. 6th Coin Release: Snow White. The eight coin release in the Disney Princess coin.
Contemporary, colourful coin and packaging design. Proof quality 1 oz Fine Silver coin. Presented in delightful fairytale book style packaging. Great present for any Disney princesses fan.
Rapunzel is the spirited and resourceful character of the Walt Disney Pictures' 50th animated feature film. Known for her long, magical hair. Raised in a lonely tower, Rapunzel has no idea that she is the kingdom's secret princess, or that Mother Gothel only cares about the healing magic in her long hair. When Rapunzel meets the rascally ruffian, Flynn Rider, she dares to leave her tower and journey to see the floating lanterns.
Along the way, she finds true love with Flynn, and more importantly, untangles the truth about who she is. Rapunzel is so eager to see the floating lights that she makes a bargain with Flynn Rider, a handsome stranger.
Little does she realise that she will not only find the lights - she will find true love. This colourful coin features an image of Rapunzel, playfully twirling her golden locks with her fingers, set against a proof quality background surrounded by relief engraved flowers. This features the Ian Rank-Broadley effigy of Her Majesty Queen Elizabeth II.
This Rapunzwl coin comes presented in delightful fairy-tale book style packaging. The themed packaging makes this coin an ideal gift for any Disney fan or coin collector. The Certificate of Authenticity is printed onto the packaging. Mintage: 10,000 Material: Fine Silver (99.9%) Finish: Proof/Coloured Weight: 1 oz Diameter: 40mm COA: Yes Country: Niue Face Value.