2015 Disney Aurora 1 oz silver coin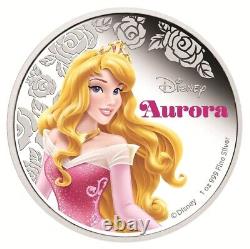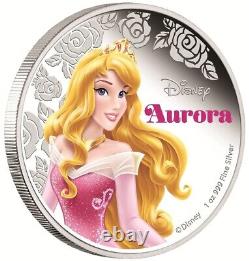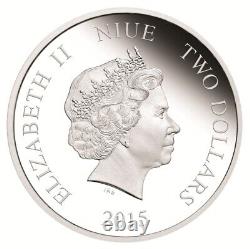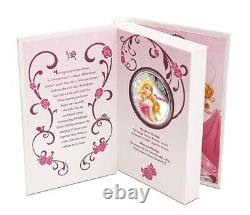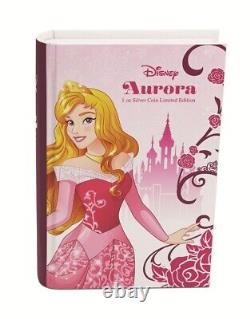 2015 Disney Aurora 1 oz silver coin. 2015 1 oz Silver Coin - Disney Princess - Aurora. Officially licensed by Disney Consumer Products with a limited mintage of 10,000 coins. Check out the other coin in the Disney Princess Series. 2nd Coin Release: Sleeping Beauty - Aurora.
3rd Coin Release: The Little Mermaid - Ariel. 4th Coin Release: Beauty and the Beast - Belle. 5th Coin Release: Aladdin - Jasmine. 6th Coin Release: Snow White. The second coin release in the Disney Princess coin.
Contemporary, colourful coin and packaging design. Proof quality 1 oz Fine Silver coin.
Presented in delightful fairytale book style packaging. Great present for any Disney princesses fan. Living deep in the forest, in a woodcutter's cottage, Briar-Rose doesn't know that she is Princess Aurora, and that the evil fairy, Maleficent has cast a dark spell over her. When Aurora pricks her finger on a spindle, she falls into an enchanted sleep. Conquering Maleficent, Prince Phillip awakens the sleeping princess and together they waltz together - just like they did "once upon a dream".
Sleeping Beauty was based on La Belle au bois dormant by Charles Perrault and Dornröschen by The Brothers Grimm. The film's musical score featured adaptations of music from the ballet Sleeping Beauty by Tchaikovsky. This highly collectible coin has a Limited Mintage of only 10,000 coins. This design features Princess Aurora surrounded by relief engraved flowers.
This features the Ian Rank-Broadley effigy of Her Majesty Queen Elizabeth II. This Cinderella coin comes presented in delightful fairy-tale book style packaging.
Makes this coin an ideal gift for any Disney fan or coin collector. The Certificate of Authenticity is printed.