1962-1966 MONACO King Rainier III Antique Genuine 6 Coin Set 1 Silver i76367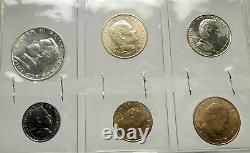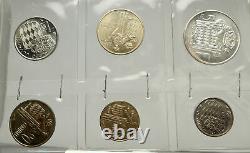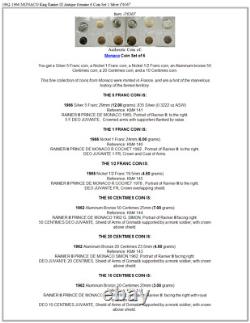 Item: i76367 Authentic Coin of. Coin Set of 6 You get a Silver 5 Franc coin, a Nickel 1 Franc coin, a Nickel 1/2 Franc coin, an Aluminum-bronze 50 Centimes coin, a 20 Centimes coin, and a 10 Centimes coin. This fine collection of coins from Monaco were minted in France, and are a hint of the marvelous history of the famed territory. THE 5 FRANC COIN IS: 1966 Silver 5 Franc 29mm (12.00 grams).
835 Silver (0.3222 oz ASW) Reference: KM# 141 RAINIER III PRINCE DE MONACO 1960, Portrait of Rainier III. 5 F DEO JUVANTE, Crowned arms with supporters flanked by value. THE 1 FRANC COIN IS: 1966 Nickel 1 Franc 24mm (6.00 grams) Reference: KM# 140 RAINIER III PRINCE DE MONACO R.
COCHET · 1982 ·, Portrait of Rainier III. DEO JUVANTE 1 FR, Crown and Coat of Arms. THE 1/2 FRANC COIN IS: 1965 Nickel 1/2 Franc 19.5mm (4.50 grams) Reference: KM# 145 RAINIER III PRINCE DE MONACO R. COCHET · 1978 ·, Portrait of Rainier III to the right. DEO JUVANTE ½ FR, Crown overlapping shield.
THE 50 CENTIMES COIN IS: 1962 Aluminum Bronze 50 Centimes 25mm (7.00 grams) Reference: KM# 144 RAINIER III PRINCE DE MONACO 1962 G. SIMON, Portrait of Rainier III facing right. 50 CENTIMES DEO JUVANTE, Shield of Arms of Grimaldi supported by a monk soldier; with crown above shield. THE 20 CENTIMES COIN IS: 1962 Aluminum Bronze 20 Centimes 23.5mm (4.00 grams) Reference: KM# 143 RAINIER III PRINCE DE MONACO SIMON 1962, Portrait of Rainier III facing right.
DEO JUVANTE 20 CENTIMES, Shield of Arms of Grimaldi supported by a monk soldier; with crown above shield. THE 10 CENTIMES COIN IS: 1962 Aluminum Bronze 10 Centimes 20mm (3.00 grams) Reference: KM# 142 RAINIER III PRINCE DE MONACO SIMON 1962, Portrait of Rainier III. Facing the right with royal crown on collar. DEO 10 CENTIMES JUVANTE, Shield of Arms of Grimaldi supported by a monk soldier; with crown above shield. Prince Rainier III (Rainier Louis Henri Maxence Bertrand Grimaldi; 31 May 1923 - 6 April 2005) ruled the Principality of Monaco for almost 56 years, making him one of the longest ruling monarchs in European history.
Though internationally known for his marriage to American actress Grace Kelly, he was also responsible for reforms to Monaco's constitution and for expanding the principality's economy beyond its traditional casino gambling base. Gambling accounts for only approximately three percent of the nation's annual revenue today; when Rainier ascended the throne in 1949, it accounted for more than 95 percent.
Rainier was born at Prince's Palace in Monaco, the only son of Princess Charlotte, Duchess of Valentinois, and her husband, Prince Pierre, Duke of Valentinois. Rainier was the first native-born prince since Honoré IV in 1758.
Rainier's mother was the only child of Louis II, Prince of Monaco, and Marie Juliette Louvet; she was legitimized through formal adoption and subsequently named heir presumptive to the throne of Monaco. Rainier's father was a half-French, half-Mexican who adopted his wife's dynasty, Grimaldi, upon marriage and was made a Prince of Monaco by marriage by Prince Louis, his father-in-law. Rainier had one sibling, Princess Antoinette, Baroness of Massy. Rainier's early education was conducted in England, at the prestigious public schools of Summerfields in St Leonards-on-Sea, Sussex, and later at Stowe, in Buckinghamshire.
After England, Rainier attended the Institut Le Rosey in Rolle and Gstaad, Switzerland from 1939, before continuing to the University of Montpellier in France, where he obtained a Bachelor of Arts degree in 1943, and finally to the Institut d'études politiques de Paris in Paris. In 1944, upon his 21st birthday, Rainier's mother renounced her right to the Monegasque throne and Rainier became Prince Louis's direct heir. In World War II Rainier joined the Free French Army in September 1944, and serving under General de Monsabert as a second lieutenant, and seeing action during the German counter-offensive in Alsace.
He received the French Croix de Guerre with bronze star (representing a brigade level citation) and was given the rank of Chevalier in the French Legion of Honor in 1947. Following his decommission from the French Army, he was promoted by the French government as a captain in April 1949 and a colonel in December 1954.
In the 1940s and 1950s, Rainier had a ten-year relationship with the French film actress Gisèle Pascal, whom he had met while a student at Montpellier University, and the couple lived at Saint-Jean-Cap-Ferrat. Rainier's sister, Princess Antoinette, wishing her own son to ascend the throne, spread rumours that Pascal was infertile.
The rumours combined with a snobbery over Pascal's family origins ultimately ended the relationship. Rainier became the Sovereign Prince of Monaco on the death of Louis II on 9 May 1949. After ascending the throne, Rainier worked assiduously to recoup Monaco's lustre, which had become tarnished through neglect (especially financial) and scandal (his mother, Princess Charlotte, took a noted jewel thief known as René the Cane as her lover). According to numerous obituaries, the prince was faced upon his ascension with a treasury that was practically empty. The small nation's traditional gambling clientele, largely European aristocrats, found themselves with reduced funds after World War II.
Other gambling centers had opened to compete with Monaco, many of them successfully. Prince Rainier regained control of SBM in 1964, effectively ensuring that his vision of Monaco would be implemented.
In addition, the Societé Monégasque de Banques et de Métaux Précieux, a bank which held a significant amount of Monaco's capital, was bankrupted by its investments in a media company in 1955, leading to the resignation of Monaco's cabinet. As Prince of Monaco, Rainier was also responsible for the principality's new constitution in 1962 which significantly reduced the power of the sovereign. He suspended the previous constitution in 1959, saying that it has hindered the administrative and political life of the country. The changes ended autocratic rule, placing power with the prince and a National Council of eighteen elected members.
At the time of his death, he was the world's second longest-serving living head of state (independent), ranking just below the King of Thailand, Bhumibol Adulyadej. The ceremonies in Monaco were on 18 April 1956 (civil) and 19 April 1956 (religious). Princess Caroline, born 23 January 1957 and now the Princess of Hanover. Prince Albert II, born 14 March 1958, inherited the throne of Monaco. Princess Stéphanie, born 1 February 1965.
In 1979, Prince Rainier made his acting debut alongside his wife Grace in a 33-minute independent film called Rearranged, produced in Monaco. According to co-star Edward Meeks, after premiering it in Monaco, Grace showed it to ABC TV executives in New York in 1982, who expressed interest if extra scenes were shot to make it an hour long. However, Grace died in a car crash caused by a stroke in 1982, making it impossible to expand the film for American release. Rainier then may have been romantically involved with his second cousin, Princess Ira von Fürstenberg, a former actress turned jewellery designer, who is also a Fiat heiress and the former sister-in-law of fashion designer Diane von Fürstenberg. Princess Ira, like him, is a great-grandchild of Lady Mary Victoria Hamilton, the Scottish-German wife of Prince Albert I of Monaco, though by Lady Mary's second marriage.
After Grace's death, Rainier refused to remarry. Rainier established a postal museum in 1950: the Museum of Stamps and Coins, in Monaco's Fontvieille district by using the collections of the Monegasque princes Albert I and Louis II.
The prestigious philatelic collectors club Club de Monte-Carlo de l'Élite de la Philatélie was established under his patronage in 1999; the club has its headquarters at the museum, its membership restricted to institutions and one hundred prestigious collectors. Throughout his reign, Rainier surveyed all the process of creation of Monaco stamps. He liked stamps printed in intaglio and the art of engravers Henri Cheffer and Czeslaw Slania.
Rainier's car collection was opened to the public as the Monaco Top Cars Collection in Fontvieille. Prince Rainier smoked 60 cigarettes a day. In the last years of his life his health progressively declined. He underwent surgery in late 1999 and 2000, and was hospitalized in November 2002 for a chest infection.
He spent three weeks in hospital in January 2004 for what was described as general fatigue. In February 2004, he was hospitalized with a coronary lesion and a damaged blood vessel.
In October he was again in hospital with a lung infection. In November of that year, Prince Albert appeared on CNN's Larry King Live and told Larry King that his father was fine, though he was suffering from bronchitis. On 7 March 2005, he was again hospitalized with a lung infection. Rainier was moved to the hospital's intensive care unit on 22 March.
One day later, on 23 March, it was announced he was on a ventilator, suffering from renal and heart failure. On 26 March, the palace reported that despite intensive ongoing efforts to improve the prince's health, he was continuing to deteriorate; however, the following day, he was reported to be conscious, his heart and kidney conditions having stabilized. His prognosis remained "very reserved". On 1 April 2005, the Palace announced that Rainier's doctors believe his chances of recovery were "slim". He was succeeded by his only son, who became Prince Albert II. He was buried on 15 April 2005, beside his wife, Princess Grace, at the Cathedral of Our Lady Immaculate, the resting place of previous sovereign princes of Monaco and several of their wives, and the place where Prince Rainier and Princess Grace had been married in 1956. Because his death occurred shortly after that of Pope John Paul II, Rainier's death was overshadowed in the media. Monaco, officially the Principality of Monaco (French: Principauté de Monaco), is a sovereign city-state, country, and microstate on the French Riviera in Western Europe. France borders the country on three sides while the other side borders the Mediterranean Sea. Monaco has an area of 2.020 km.
(0.780 sq mi), making it the second-smallest country in the world after the Vatican. Its population was about 38,400 based on the last census of 2016. With 19,009 inhabitants per km², it is the most densely-populated sovereign state in the world. Monaco has a land border of 5.47 km (3.40 mi), a coastline of 3.83 km (2.38 mi), and a width that varies between 1,700 and 349 m (1,859 and 382 yd). The highest point in the country is a narrow pathway named Chemin des Révoires on the slopes of Mont Agel, in the Les Révoires Ward, which is 161 metres (528 feet) above sea level.
Monaco's most populous Quartier is Monte Carlo and the most populous Ward is Larvotto/Bas Moulins. Through land reclamation, Monaco's land mass has expanded by 20 percent; in 2005, it had an area of only 1.974 km. In 2014, it was noted that about 30% of the population was made up of millionaires. Monaco is a principality governed under a form of constitutional monarchy, with Prince Albert II as head of state. Although Prince Albert II is a constitutional monarch, he wields immense political power.
The House of Grimaldi has ruled Monaco, with brief interruptions, since 1297. The official language is French, but Monégasque, Italian, and English are widely spoken and understood. The state's sovereignty was officially recognized by the Franco-Monegasque Treaty of 1861, with Monaco becoming a full United Nations voting member in 1993. Despite Monaco's independence and separate foreign policy, its defense is the responsibility of France. However, Monaco does maintain two small military units.
Economic development was spurred in the late 19th century with the opening of the country's first casino, Monte Carlo, and a railway connection to Paris. Since then, Monaco's mild climate, scenery, and gambling facilities have contributed to the principality's status as a tourist destination and recreation centre for the rich.
In more recent years, Monaco has become a major banking centre and has sought to diversify its economy into the services sector and small, high-value-added, non-polluting industries. It is also the host of the annual street circuit motor race Monaco Grand Prix, one of the original Grands Prix of Formula One. The principality has a club football team; AS Monaco, who have become French champions on multiple occasions. Through its relationship with France, Monaco uses the euro as its sole currency (prior to this it used the Monégasque franc). Monaco joined the Council of Europe in 2004.
It is a member of the Organisation Internationale de la Francophonie (OIF). World-renowned expert numismatist, enthusiast, author and dealer in authentic ancient Greek, ancient Roman, ancient Byzantine, world coins & more.
Ilya Zlobin is an independent individual who has a passion for coin collecting, research and understanding the importance of the historical context and significance all coins and objects represent. Send me a message about this and I can update your invoice should you want this method.
Getting your order to you, quickly and securely is a top priority and is taken seriously here. Great care is taken in packaging and mailing every item securely and quickly.
What is a certificate of authenticity and what guarantees do you give that the item is authentic? You will be very happy with what you get with the COA; a professional presentation of the coin, with all of the relevant information and a picture of the coin you saw in the listing. Additionally, the coin is inside it's own protective coin flip (holder), with a 2x2 inch description of the coin matching the individual number on the COA. Whether your goal is to collect or give the item as a gift, coins presented like this could be more prized and valued higher than items that were not given such care and attention to. When should I leave feedback? Please don't leave any negative feedbacks, as it happens sometimes that people rush to leave feedback before letting sufficient time for their order to arrive. The matter of fact is that any issues can be resolved, as reputation is most important to me. My goal is to provide superior products and quality of service. How and where do I learn more about collecting ancient coins? Visit the Guide on How to Use My Store. For on an overview about using my store, with additional information and links to all other parts of my store which may include educational information on topics you are looking for. This item is in the category "Coins & Paper Money\Coins: World\Collections, Lots". The seller is "highrating_lowprice" and is located in this country: US. This item can be shipped worldwide.
Certification: Uncertified
Denomination: Denomination_in_description
Year: Year_in_description