1890-1916 IMPERIAL GERMAN EAGLE COIN PENDANT 28 Sterling Silver Link Chain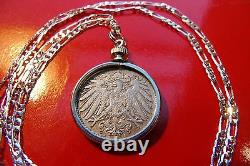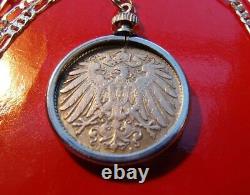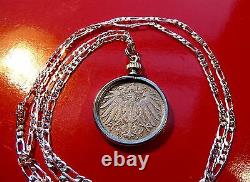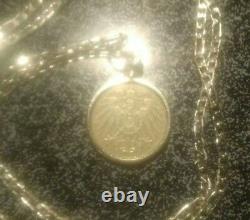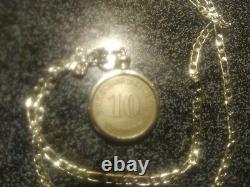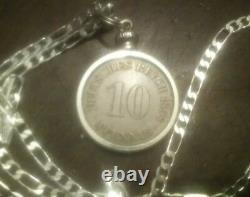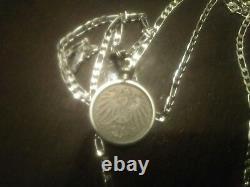 A neat piece of history and a cool way to carry a piece of history and a great conversation piece for certain! This coin has seen some circulation and has some circulation wear and minor surface marks as seen in the finely detailed photos. Fine all around, Rare and Neat! 925 ITALIAN Sterling Silver Chain.
Thanks for looking at our pendant and chain, If you would like to look our other coins and coin jewelry that we have listed feel free to out our other items. We enjoy making custom jewelry so if you have an idea for something special for you or a loved one or a friend please let us know. We are happy to work for a reasonable rate with a small mark up. Thanks Charles doing business as HonoredAllies of Oklahoma's Pecan Valley Stoneworks. In the years leading to World War I there are five major powers within Europe - Austria-Hungary, Germany, Russia, France and Britain. The cast list is unchanged since the early 18th century (except that Prussia is now Germany), and the players are well used to the game of diplomacy in which alliances formed for defensive purposes turn into aggressive partnerships as soon as a new war develops (a circumstance considered almost inevitable sooner or later in the atmosphere of national rivalry). The idea of rapid victory in a short war is particularly prevalent in Germany, the victor in both the Seven Weeks' War and the Franco-Prussian War. And the German nation is both more hungry for immediate success on the international stage than its rivals, and more nervous about succumbing to hostile alliances.
Germany has recently been transformed by Bismarck from a relatively minor player to potentially the most powerful nation in continental Europe. But as a late arrival on the world stage, it has no empire to match those of Britain, France and Russia. Nor, unlike them, has it a great navy - the most tangible symbol, perhaps, of international power. German nervousness is increased during the 1890s when alliances among the European powers seem to be slipping beyond German control. Bismarck worked on the assumption of hostility from France (eager to avenge the loss of Alsace and Lorraine) and a neutral stance from Britain (historically the great rival of France).
He therefore concentrated his efforts on creating alliances with his eastern neighbours, Russia and Austria-Hungary. To these he added Italy, a new nation on the verge of great power status within Europe. The Triple Alliance, agreed in 1882 between Germany, Austria-Hungary and Italy, lasts until 1915.
Bismarck's chosen path is not easy, particularly since Austria-Hungary and Russia have conflicting spheres of interest in the unstable Balkans. As a result, while Austria-Hungary and Italy remain constant allies (the three nations become known from 1882 as the Central Powers of Europe), Bismarck is constantly having to patch up or renew the alliance with Russia under the pressure of international events. The careful edifice crumbles after Bismarck's dismissal in 1890. The new Kaiser, recognizing the incompatibility of Russia and Austria-Hungary as allies, breaks off the alliance with Russia. As a result Russia and France, both equally alarmed by Germany, begin secret negotiations - which result in the Franco-Russian alliance of 1894.
Then, even more surprisingly, in 1904 France and Britain agree an unprecedented Entente Cordiale. Austria-Hungary, a declining power, and the relatively weak Italy now seem to be Germany's only probable allies in a European conflict. And by this time many, particularly in Germany, feel that such a conflict cannot be far in the future. All the major nations have been preparing for such an eventuality, but Germany has done so in the most deliberate fashion. A popular buzz-word in Germany at this time is Weltpolitik ('world politics'), meaning that the nation must assert itself on the international stage in order to claim its'place in the sun' (another current phrase). To this end much pride is placed in the plan devised by Admiral von Tirpitz to provide the nation with a High Seas Fleet to match the naval forces of Britain. Tirpitz's demands on the Reichstag escalate in the inexorable pattern of any arms race. In 1898 he persuades the politicians to pass a Navy Law providing for a fleet of 16 battleships. Two years later a new Navy Law revises the figure to 38 battleships, with a completion date of 1917 for the full fleet. This level will still be below that of the British navy, but Tirpitz argues that it will provide Germany with a Risikoflotte ('risk fleet'), meaning one too dangerous for Britain to attack. Britain radically upsets the calculation by introducing in 1906 a vastly more powerful class of battleship, the first of the famous'dreadnoughts'. Germany follows suit, upgrading its production line to the new standard. To the German argument that Britain is escalating the stakes, Winston Churchill (when first lord of the admiralty in 1912) replies that for an island nation a powerful navy is a defensive necessity, whereas to Germany it is'more in the nature of a luxury'. Meanwhile the German strategy for the army in the event of war is both more secret and more illicit.
It is the work of Alfred von Schlieffen, chief of the general staff from 1891 to 1906. During the second half of the 1890s, when France and Russia are in alliance and it is accepted that a war must be fought on both fronts, Schlieffen devises a two-stage plan. A massive and rapid flanking attack will be made on France from the north, through Belgium (in total disregard of Belgium's neutrality), while a relatively light force holds at bay the Russians - who are likely to be slower in their mobilization. France will then be defeated in time to redirect the full German might against Russia.
We appreciate your understanding beforehand. Thank you for shopping with us! Please allow up to 60 days or about 2 months for deliveries to all. We have no control over this situation. Listing or connected to this listing or any other listing. Your international parcel might arrive in a month but due to high volume slow. We highly recommend that any US residents reading this message contact. Your local Congress Rep in order fix the problem and help facilitate a complete investigation and overhaul into the practices of those who are delaying. International parcels for several months.
We work every day of the week and part time during the weekends to make sure that your parcels will arrive as quickly as they are able. The item "1890-1916 IMPERIAL GERMAN EAGLE COIN PENDANT 28 Sterling Silver Link Chain" is in sale since Saturday, May 2, 2015. This item is in the category "Coins & Paper Money\Coins\ World\Europe\Germany\Empire (1871-1918)". The seller is "honoredallies" and is located in Newalla, Oklahoma. This item can be shipped worldwide.
Circulated/Uncirculated: Circulated
Composition: Copper Nickel
Year: 1890-1916
Country/Region of Manufacture: Germany
Certification: Uncertified