1768 GERMANY NURNBERG Nuremberg CITY VIEW German Silver Taler Coin NGC i84937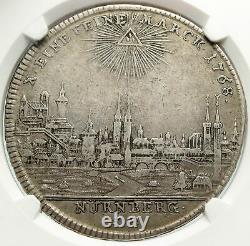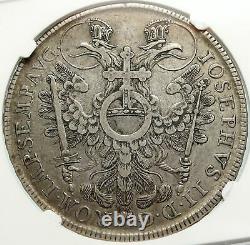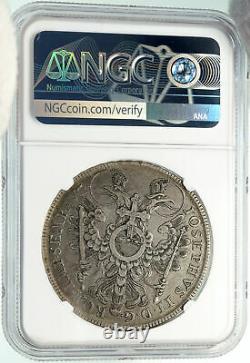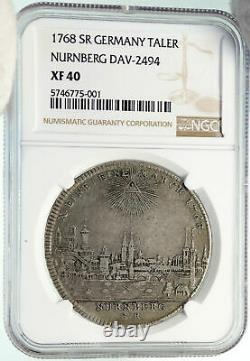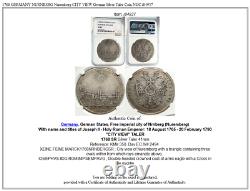 Item: i84937 Authentic Coin of. Free imperial city of Nürnberg (Nuremberg) With name and titles of Joseph II - Holy Roman Emperor: 18 August 1765 - 20 February 1790 "CITY VIEW" TALER 1768 SR Silver Taler 41mm Reference: KM# 350, Dav EC IV# 2494 X·EINE FEINE MARCK·1768·NÜRNBERG·S·R· ; City view of Nuremberg with a triangle containing three ovals within from which rays emanate above. IOSEPHVS II·D·G· ROM ·IMP·SEMP·AVG· ; Double-headed crowned coat-of-arms eagle with a Cross in the middle. Joseph II (German: Josef Benedikt Anton Michel Adam ; English: Joseph Benedict Anthony Michael Adam ; 13 March 1741 - 20 February 1790) was Holy Roman Emperor from August 1765 and sole ruler of the Habsburg lands from November 1780 until his death. He was the eldest son of Empress Maria Theresa and her husband, Emperor Francis I, and the brother of Marie Antoinette.
He was thus the first ruler in the Austrian dominions of the House of Lorraine, styled Habsburg-Lorraine. Joseph was a proponent of enlightened absolutism; however, his commitment to modernizing reforms subsequently engendered significant opposition, which resulted in failure to fully implement his programmes. He has been ranked, with Catherine the Great of Russia and Frederick the Great of Prussia, as one of the three great Enlightenment monarchs. His policies are now known as Josephinism.
He died with no sons and was succeeded by his younger brother, Leopold II. Nuremberg is the second-largest city of the German federal state of Bavaria after its capital Munich, and its 511,628 (2016) inhabitants make it the 14th largest city in Germany. On the Pegnitz River (from its confluence with the Rednitz in Fürth onwards: Regnitz, a tributary of the River Main) and the Rhine-Main-Danube Canal, it lies in the Bavarian administrative region of Middle Franconia, and is the largest city and the unofficial capital of Franconia.
Nuremberg forms a continuous conurbation with the neighbouring cities of Fürth, Erlangen and Schwabach with a total population of 787,976 (2016), while the larger Nuremberg Metropolitan Region has approximately 3.5 million inhabitants. The city lies about 170 kilometres (110 mi) north of Munich. It is the largest city in the East Franconian dialect area (colloquially: "Franconian"; German: Fränkisch).
There are many institutions of higher education in the city, including the University of Erlangen-Nuremberg (Friedrich-Alexander-Universität Erlangen-Nürnberg). With 39,780 students in 2017, it is Bavaria's third-largest and Germany's 11th-largest university, with campuses in Erlangen and Nuremberg and a university hospital in Erlangen (Universitätsklinikum Erlangen). Technische Hochschule Nürnberg Georg Simon Ohm and Hochschule für Musik Nürnberg are also located within the city. Nuremberg Airport (Flughafen Nürnberg "Albrecht Dürer") is the second-busiest airport in Bavaria after Munich Airport, and the tenth-busiest airport in Germany. Staatstheater Nürnberg is one of the five Bavarian state theatres, showing operas, operettas, musicals, and ballets (main venue: Nuremberg Opera House), plays (main venue: Schauspielhaus Nürnberg), as well as concerts (main venue: Meistersingerhalle).
Its orchestra, Staatsphilharmonie Nürnberg , is Bavaria's second-largest opera orchestra after the Bavarian State Opera's Bavarian State Orchestra in Munich. Nuremberg is the birthplace of Albrecht Dürer and Johann Pachelbel. Nuremberg was the site of major Nazi rallies, and it provided the site for the Nuremberg trials, which held to account many major Nazi officials. Germany , officially the Federal Republic of Germany is a federal parliamentary republic in western-central Europe. It includes 16 constituent states and covers an area of 357,021 square kilometres (137,847 sq mi) with a largely temperate seasonal climate. Its capital and largest city is Berlin. With 81 million inhabitants, Germany is the most populous member state in the European Union. After the United States, it is the second most popular migration destination in the world.
Various Germanic tribes have occupied northern Germany since classical antiquity. A region named Germania was documented before 100 CE. During the Migration Period the Germanic tribes expanded southward.
Beginning in the 10th century, German territories formed a central part of the Holy Roman Empire. During the 16th century, northern German regions became the centre of the Protestant Reformation. The rise of Pan-Germanism inside the German Confederation resulted in the unification of most of the German states in 1871 into the Prussian-dominated German Empire.
The establishment of the Third Reich in 1933 led to World War II and the Holocaust. After 1945, Germany split into two states, East Germany and West Germany. In 1990, the country was reunified.
In the 21st century, Germany is a great power and has the world's fourth-largest economy by nominal GDP, as well as the fifth-largest by PPP. As a global leader in several industrial and technological sectors, it is both the world's third-largest exporter and importer of goods. Germany is a developed country with a very high standard of living sustained by a skilled and productive society. It upholds a social security and universal health care system, environmental protection and a tuition free university education.
Germany was a founding member of the European Union in 1993. It is part of the Schengen Area, and became a co-founder of the Eurozone in 1999. Germany is a member of the United Nations, NATO, the G8, the G20, and the OECD. The national military expenditure is the 9th highest in the world.
Known for its rich cultural history, Germany has been continuously the home of influential artists, philosophers, musicians, sportsmen, entrepreneurs, scientists and inventors. World-renowned expert numismatist, enthusiast, author and dealer in authentic ancient Greek, ancient Roman, ancient Byzantine, world coins & more. Ilya Zlobin is an independent individual who has a passion for coin collecting, research and understanding the importance of the historical context and significance all coins and objects represent. Send me a message about this and I can update your invoice should you want this method.
Getting your order to you, quickly and securely is a top priority and is taken seriously here. Great care is taken in packaging and mailing every item securely and quickly. What is a certificate of authenticity and what guarantees do you give that the item is authentic? You will be very happy with what you get with the COA; a professional presentation of the coin, with all of the relevant information and a picture of the coin you saw in the listing. Additionally, the coin is inside it's own protective coin flip (holder), with a 2x2 inch description of the coin matching the individual number on the COA.
Whether your goal is to collect or give the item as a gift, coins presented like this could be more prized and valued higher than items that were not given such care and attention to. When should I leave feedback? Please don't leave any negative feedbacks, as it happens sometimes that people rush to leave feedback before letting sufficient time for their order to arrive. The matter of fact is that any issues can be resolved, as reputation is most important to me.
My goal is to provide superior products and quality of service. How and where do I learn more about collecting ancient coins? Visit the Guide on How to Use My Store. For on an overview about using my store, with additional information and links to all other parts of my store which may include educational information on topics you are looking for.
The item "1768 GERMANY NURNBERG Nuremberg CITY VIEW German Silver Taler Coin NGC i84937" is in sale since Thursday, July 9, 2020. This item is in the category "Coins & Paper Money\Coins\ World\Europe\Germany\German States (up to 1871)".
The seller is "highrating_lowprice" and is located in Rego Park, New York. This item can be shipped worldwide.
Country/Region of Manufacture: Germany
Certification Number: 5746775-001
Certification: NGC
Grade: XF 40
Year: 1768
Circulated/Uncirculated: Circulated
Composition: Silver
Denomination: Taler
KM Number: 350