12 Religions Of The Ancient World A Bronze And Silver Coin Collection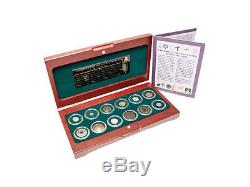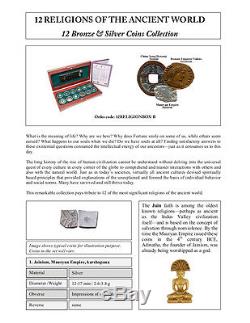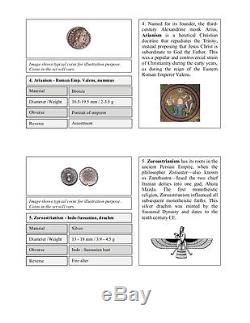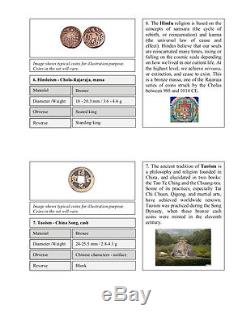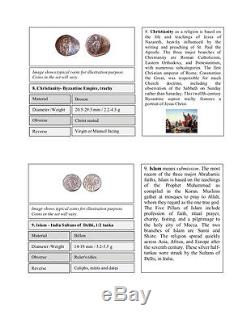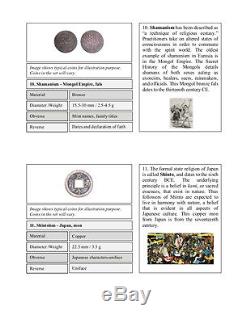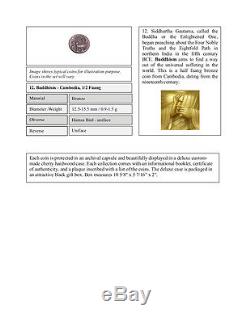 What is the meaning of life? Why does Fortune smile on some of us, while others seem cursed? What happens to our souls when we die? Do we have souls at all? Finding satisfactory answers to these existential questions consumed the intellectual energy of our ancestorsjust as it consumes us to this day.
The long history of the rise of human civilization cannot be understood without delving into the universal quest of every culture in every corner of the globe to comprehend and master interactions with others and also with the natural world. Just as in todays societies, virtually all ancient cultures devised spiritually based principles that provided explanations of the unexplained and formed the basis of individual behavior and social norms. Many have survived and still thrive today. This remarkable collection pays tribute to 12 of the most significant religions of the ancient world. Jainism, Mauryan Empire, karshapana Material: Silver Diameter/Weight: 12-17 mm/ 2.6-3.4 g Obverse: Impressions of symbols Reverse: Same The Jain faith is among the oldest known religionsperhaps as ancient as the Indus Valley civilization itselfand is based on the concept of salvation through nonviolence.
By the time the Mauryan Empire issued these coins in the 4th century BCE, Adinatha, the founder of Jainism, was already being worshipped as a god. Jannaeus, lepton Material: Bronze Diameter/Weight: 11-13 mm/ 0.3-1 g Obverse: Anchor Reverse: Star Judaism evolved around the sixth century BCE, a way of life built around the covenant God made with the prophet Abraham in circa 2000 BCE. Judaism is a tradition grounded in the religious, ethical, and social laws as they are articulated in the Torah the first five books of the Hebrew Bible. This bronze lepton is from the Second Temple period, before the destruction of Jerusalem in 70 CE. Hellenistic Polytheism, Nicaea, AE Material: Bronze Diameter/Weight: 17-19.5 mm/ 2-4.5 g Obverse: Portrait Reverse: Assortment The ancient Greeks worshipped a panoply of gods, including Zeus, Hera, Athena, and Apollo. Hellenistic polytheism survived into the Roman Empire before petering out after the reign of Constantine the Great, a century after these bronze coins were minted in Nicaea. Valens, nummus Material: Bronze Diameter/Weight: 16.5-19.5 mm/ 2-3.5 g Obverse: Portrait of emperor Reverse: Assortment Named for its founder, the thirdcentury Alexandrine monk Arius, Arianism is a heretical Christian doctrine that repudiates the Trinity, instead proposing that Jesus Christ is subordinate to God the Father.
This was a popular and controversial strain of Christianity during the early years, as during the reign of the Eastern Roman Emperor Valens. Zoroastrianism - Indo-Sassanian, drachm Material: Silver Diameter/Weight: 13-18 mm/ 3.9-4.5 g Obverse: Indo-Sassanian bust Reverse: Fire altar Zoroastrianism has its roots in the ancient Persian Empire, when the philosopher Zoroasteralso known as Zarathustrafused the two chief Iranian deities into one god, Ahura Mazda. The first monotheistic religion, Zoroastrianism influenced all subsequent monotheistic faiths. This silver drachm was minted by the Sassanid Dynasty and dates to the tenth century CE. Hinduism - Chola-Rajaraja, massa Material: Bronze Diameter/Weight: 18-20.3 mm/ 3.6-4.6 g Obverse: Seated king Reverse: Standing king The Hindu religion is based on the concepts of samsara (the cycle of rebirth, or reincarnation) and karma (the universal law of cause and effect).
Hindus believe that our souls are reincarnated many times, rising or falling on the cosmic scale depending on how we lived in our current life. At the highest level, we achieve nirvana, or extinction, and cease to exist.
This is a bronze massa, one of the Rajaraja series of coins struck by the Cholas between 985 and 1014 CE. Taoism - China Song, cash Material: Bronze Diameter/Weight: 24-25.5 mm; 2.8-4.1 g Obverse: Chinese characters-uniface Reverse: Blank The ancient tradition of Taoism is a philosophy and religion founded in China, and elucidated in two books: the Tao Te Ching and the Chuang-tzu.
Some of its practices, especially Tai Chi Chuan, Qigong, and martial arts, have achieved worldwide renown. Taoism was practiced during the Song Dynasty, when these bronze cash coins were minted in the eleventh century. Christianity- Byzantine Empire, trachy Material: Bronze Diameter/Weight: 20.5-29.5 mm/ 2.2-4.3 g Obverse: Christ seated Reverse: Virgin or Manuel facing Christianity as a religion is based on the life and teachings of Jesus of Nazareth, heavily influenced by the writing and preaching of St. The three major branches of Christianity are Roman Catholicism, Eastern Orthodoxy, and Protestantism, with numerous subcategories. The first Christian emperor of Rome, Constantine the Great, was responsible for much Church doctrine, including the observation of the Sabbath on Sunday rather than Saturday.
This twelfth-century Byzantine aspron trachy features a portrait of Jesus Christ. Islam - India Sultans of Delhi, 1/2 tanka Material: Billon Diameter/Weight: 14-18 mm/ 3.2-3.5 g Obverse: Ruler's titles Reverse: Caliphs, mints and dates Islam means submission. The most recent of the three major Abrahamic faiths, Islam is based on the teachings of the Prophet Muhammad as compiled in the Koran.
Muslims gather at mosques to pray to Allah, whom they regard as the one true god. The Five Pillars of Islam include profession of faith, ritual prayer, charity, fasting, and a pilgrimage to the holy city of Mecca. The two branches of Islam are Sunni and Shiite. The religion spread quickly across Asia, Africa, and Europe after the seventh century.
These silver half-tankas were struck by the Sultans of Delhi, in India. Shamanism - Mongol Empire, fals Material: Bronze Diameter/Weight: 15.5-30 mm/ 2.5-4.5 g Obverse: Mint names, family titles Reverse: Dates and declaration of faith Shamanism has been described as a technique of religious ecstasy.
Practitioners take on altered states of consciousness in order to commune with the spirit world. The oldest example of shamanism in Eurasia is in the Mongol Empire. The Secret History of the Mongols details shamans of both sexes acting as exorcists, healers, seers, rainmakers, and officials. This Mongol bronze fals dates to the thirteenth century CE. Shintoism - Japan, mon Material: Copper Diameter/Weight: 22.5 mm/ 3.3 g Obverse: Japanese characters-uniface Reverse: Uniface The formal state religion of Japan is called Shinto, and dates to the sixth century BCE. The underlying principle is a belief in kami, or sacred essences, that exist in nature.
Thus followers of Shinto are expected to live in harmony with nature, a belief that is evident in all aspects of Japanese culture. This copper mon from Japan is from the seventeenth century. Buddhism - Cambodia, 1/2 Fuang Material:Bronze Diameter/Weight: 12.5-15.5 mm/ 0.9-1.5 g Obverse: Hamsa bird-uniface Reverse: Uniface Siddhartha Gautama, called the Buddha or the Enlightened One, began preaching about the Four Noble Truths and the Eightfold Path in northern India in the fifth century BCE. Buddhism aims to find a way out of the universal suffering in the world. This is a half fuang bronze coin from Cambodia, dating from the nineteenth century.
Each coin is protected in an archival capsule and beautifully displayed in a deluxe custom made cherry hardwood case. Each collection comes with an informational booklet, certificate of authenticity, and a plaque inscribed with a list of the coins. The deluxe case is packaged in an attractive black gift box. Box measures 10 5/8" x 5 7/16" x 2.
Each Item is checked and comes with certificate of authenticity. Check out my other items. Authorized Antiquities Dealer, License No. Ancient Art of the Holy Land. These charges are the buyers responsibility.
2- The images, size, and condition in this listing are accurate and for the actual object offered. B please note according to the low in the state of Israel an export approval is required. Please take in consideration that this procedure takes 1-2 weeks , so please be patient and thank you for your understanding. Assuming the item/items is in the same condition as it was. All objects we sell are.
2-Reasonably priced compared to others. Valuation: Coverage is provided at replacement cost valuation unless otherwise specified in the terms herein. Your approval and feedback means a lot to me! We are among the top online ancient art sellers worldwide with a physical gallery location in the old city in Jerusalem. Collecting antiquities can be fun, exciting, romantic at times, and quite rewarding. A dealer you can trust and build a long lasting relationship with.
Our vast inventory of ancient art includes one of the finest and most comprehensive ancient glass, pottery, coins. If you have any specific inquiries, please let.
Authorized Antiquities Dealer License No. Listed and recommended by the Ministry of Tourism. Kind suggestion is precious to us. Cell 972 544 955 5 27.
The item "12 RELIGIONS OF THE ANCIENT WORLD A BRONZE AND SILVER COIN COLLECTION" is in sale since Thursday, January 05, 2017. This item is in the category "Coins & Paper Money\Coins\ Ancient\Greek (450 BC-100 AD)".jerusalem" and is located in New York.
This item can be shipped worldwide.