2020 Judith II Gustav Klimt Pure Silver Coin Mint of Poland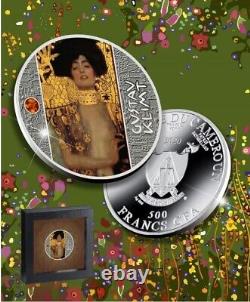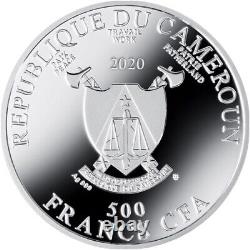 2020 JUDITH I - GUSTAV KLIMT. Gustav Klimt exerted significant influence on the history of art. His attitude towards painting resulted in a new quality in fine arts.
A semi-nude portrait of the biblical character of Judith with the head of Holofernes, an Assyrian general of invading troops, was created in 1901. Like other canvas portraying Adele Block-Bauer, the painting is rich in gold ornaments characteristic for Art Nouveau style. Continuation of the series inspired by Klimt's works.
Coins decorated with the Baltic Gold - Polish amber. A wonderful gift for the connoisseur of art. Mintage: 555 Material: Pure Silver (99.99%) Condition: Proof with digital printing and amber insert Weight: 17.5 grams Diameter: 50 mm Face Value: 500 Francs CFA. Replace this text with your service information.