2019 Murano Holiday Wreath 1 oz Fine Silver Coin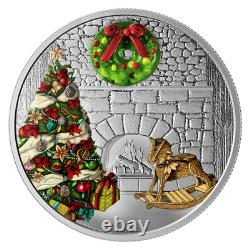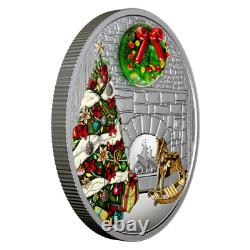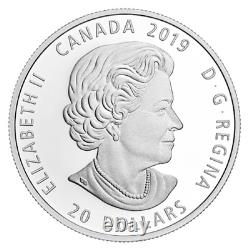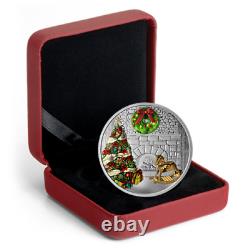 2019 Murano Holiday Wreath 1 oz Fine Silver Coin. The Royal Canadian Mint's 2019 holiday coin is a beautiful invitation to re-live the magic of Christmases past! On the engraved reverse, a colourful Murano glass wreath adds special festive cheer, while selective colour draws the eye to the sights that bring out the child-like wonder in us all.
MURANO CHRISTMAS: An annual favourite! A Murano glass element is the crowing glory on a nostalgia-filled holiday design. YOUR COIN IS UNIQUE: No two Murano glass pieces are exactly alike!
Handcrafted by Italian glassmakers using centuries-old techniques, every wreath is a stunning example of the colourful clarity that is synonymous with Venetian glass. SELECTIVE COLOUR highlights two wondrous sights-the beautifully decorated tree and a very special gift-on the finely engraved reverse. FOR YOU OR A LOVED ONE: A special keepsake to share or keep-one that evokes happy memories of a magical time that comes once a year, yet lives within us always! Designed by artist Marie-Élaine Cusson, the reverse steps back in time to capture the heart-warming magic of an old-fashioned family Christmas.
A roaring fire in the stone-lined fireplace conjures a feeling of warmth and coziness, while an extraordinary holiday wreath "hangs" on the brick wall above the mantle. Uniquely handcrafted by glassmakers Giorgio and Bernardino Vio of Murano, Italy, the bright green wreath complements the coloured tree, whose traditional mix of decorations, flowers, bows and ribbon garland culminate in a star-shaped topper.
The brightly wrapped gifts and a bow on the wooden rocking horse hint at an exhilarating moment of discovery to come-a moment that is at the heart of many memories of holidays past. No: 169231 Mintage: 5,000 Material: 99.99 % fine silver Finish: Proof Weight: 31.39 g Diameter: 38 mm Edge: Serrated Certificate: Serialized.