Austria/hungary 1741 Thaler Young Maria Theresa Km #328.3, Dav #1125b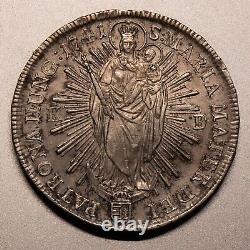 Granted to your attention very rare AUSTRIA/HUNGARY 1741 THALER YOUNG MARIA THERESA KM #328.3, DAV #1125B. Uncertified but looks uncirculated by my opinion. Obverse: Bust of Maria Theresa with 2 curls hanging in back facing right. MAR · THERESIA · D : G : REG : HUN : BO ·.
Standing radiant glorified and crowned Madonna with glorified child on left arm; orb in the left hand, scepter in the right; on a crescent. KB divided by Madonna Figure. Twofold crowned Hungarian coat of arms below divides mintmark and lettering above. S : MARIA MATER DEI PATRONA HUNG: 1741.
KM #328.3, DAV #1125B. Please look at the pictures to verify condition of the coin. You can make your OFFER and ask for DISCOUNT.