MOSASAURUS World of Evolution 1 Oz Silver Coin 1000 Francs Burkina Faso 2017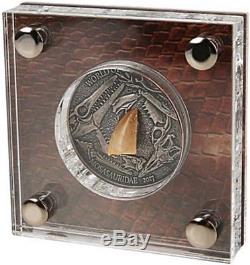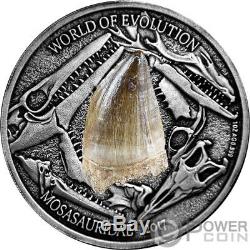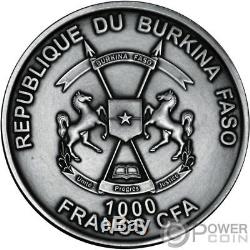 MOSASAURUS World of Evolution 1 Oz Silver Coin 1000 Francs Burkina Faso 2017. This incredible 1 Oz Silver coin is part of World of Evolution series, celebrating some of the sea creatures that lived many years ago. In this edition the Mosasaurus. The coin features an incredible Mosasaur tooth insert, has a beautiful design, has an Antique Finish quality and comes in a case, along with the Certificate of Authenticity.
Limited mintage to only 500 pcs worldwide. The reverse of the coin features an incredible real Mosasaurus tooth over a spectacular background that looks like an archaeological excavation.
On the top of the reverse, the inscription: WORLD OF EVOLUTION the name of the series. On the bottom of the reverse, the inscriptions: MOSASAURIDAE the name of the coin and 2017 the year of issue. On the right side, the inscription: 1OZ AG 0.999 the weight of the coin and the fineness of Silver. The obverse of the coin depicts the Coat of Arms of Burkina Faso and the inscriptions: REPUBLIQUE DU BURKINA FASO the issue country and 1000 FRANCS CFA the face value.
Mosasaurus Mosasaurus was among the last of the mosasaurids, and among the largest. As with most mosasaurids, the legs and feet of Mosasaurus were modified into flippers, and the front flippers were larger than the hind flippers. The largest known species, M. Hoffmannii reached lengths up to 17 m (56 ft), slightly longer than its relatives Tylosaurus and Hainosaurus.
Mosasaurus was also more robust than related mosasaurids. The skull was more robust than in other mosasaurids, and the lower jaws (mandibles) attached very tightly to the skull. They had deep, barrel-shaped bodies, and with their fairly large eyes, poor binocular vision, and poorly developed olfactory bulbs, experts believe that Mosasaurus lived near the ocean surface, where they preyed on fish, turtles, ammonites, smaller mosasaurs, birds, pterosaurs, and plesiosaurs. Although they were able to dive, they evidently did not venture into deeper waters. The skull of Mosasaurus tapered off into a short, conical tip.
The jaws were armed with massive conical teeth. Their paddle-like limbs had five digits in front and four in back. The body ended in a strong tail, which other mosasaurid fossils suggest had a fluke similar to those of sharks and some ichthyosaurs. The body probably remained stiff to reduce drag through the water, while the end of the tail provided strong propulsion.
The item "MOSASAURUS World of Evolution 1 Oz Silver Coin 1000 Francs Burkina Faso 2017" is in sale since Tuesday, March 06, 2018. This item is in the category "Coins & Paper Money\Coins\ Canada\Commemorative". The seller is "1fabe1" and is located in Roscoe, Illinois.
This item can be shipped to United States.